The Book of Job
2/20/2021 - Job and Modern Day Christianity Pt 2
There is no such thing as karma. It's hard to get rid of our sense of entitlement such as, "I'm a good person hence, I deserve good things and nothing bad should happen to me." Job was described as a perfect man by God and yet as you can see has suffered greatly despite this. You can see how Job views God very similar to this. In Job 19:7, He feels that sense of entitlement where he wants to hear an answer from God. While he does get a direct audience with God, I don't think that's the main point of the story (defintely nice to see God's response). I do want to note that Job never does lose his faith in God. He never curses God, he curses his existance which is fine in my eyes. Job always had the choice to abandon his faith but didn't. That emotional rollercoaster had to be done to learn a crucial lesson.

satan's premise with God is that every human on Earth is just like satan, selfish to the core. People only need God because they can get something from Him, that people will only use Him without truly loving Him. The moment you take away God's gifts, they will abandon God. I remember hearing that this is how evil undoes itself. satan did what God wanted to do. Establish a proper relationship with Job through his suffering. Our greatest lessons happen during our humility, when we're at our lowest. It's sometimes easy to forget those moments as well, very much like our first love. We need humility. We need to understand that our ways of thinking are completely different from God's ways of thinking which you can see at the end of Job. God doesn't need to explain why Job suffers. We just need to trust God's plan no matter how scary/brutal it can be.

For my thoughts are not your thoughts, neither are your ways my ways, saith the Lord. For as the Heavens are higher than the Earth, so are my ways higher than your ways, and my thoughts than your thoughts. Isaiah 55:8-9

I didn't connect this back to modern day Christians. I'm sure you can think up your own examples.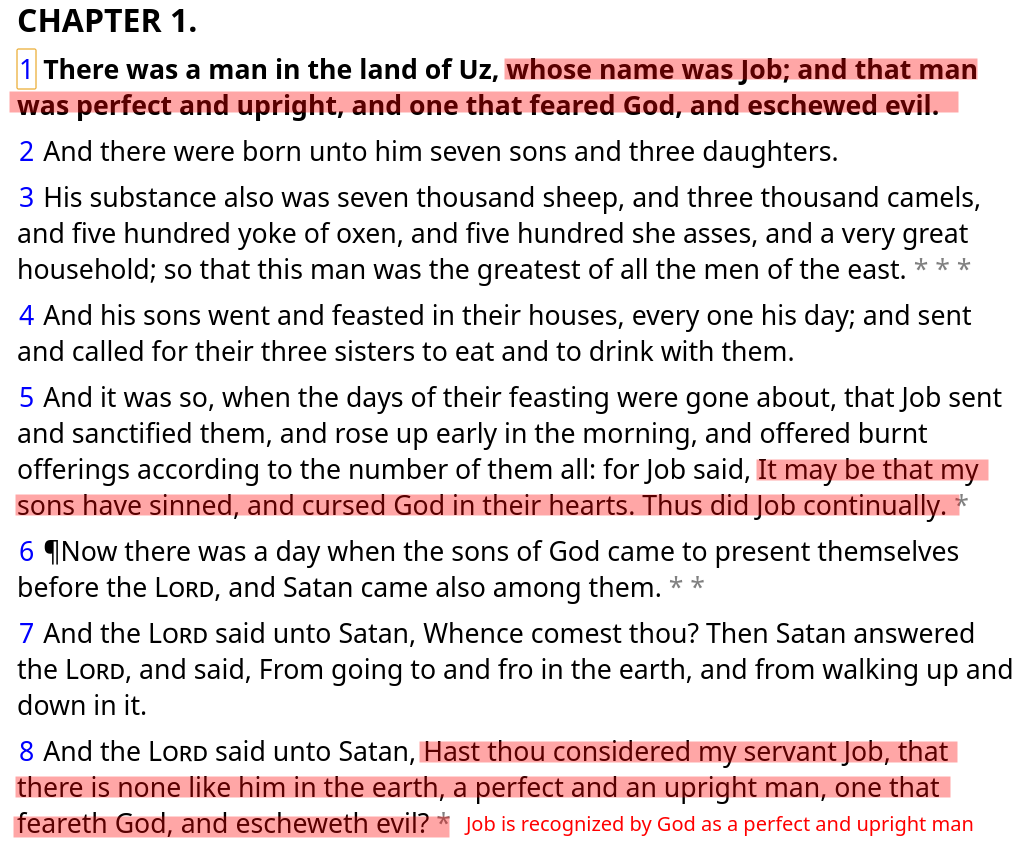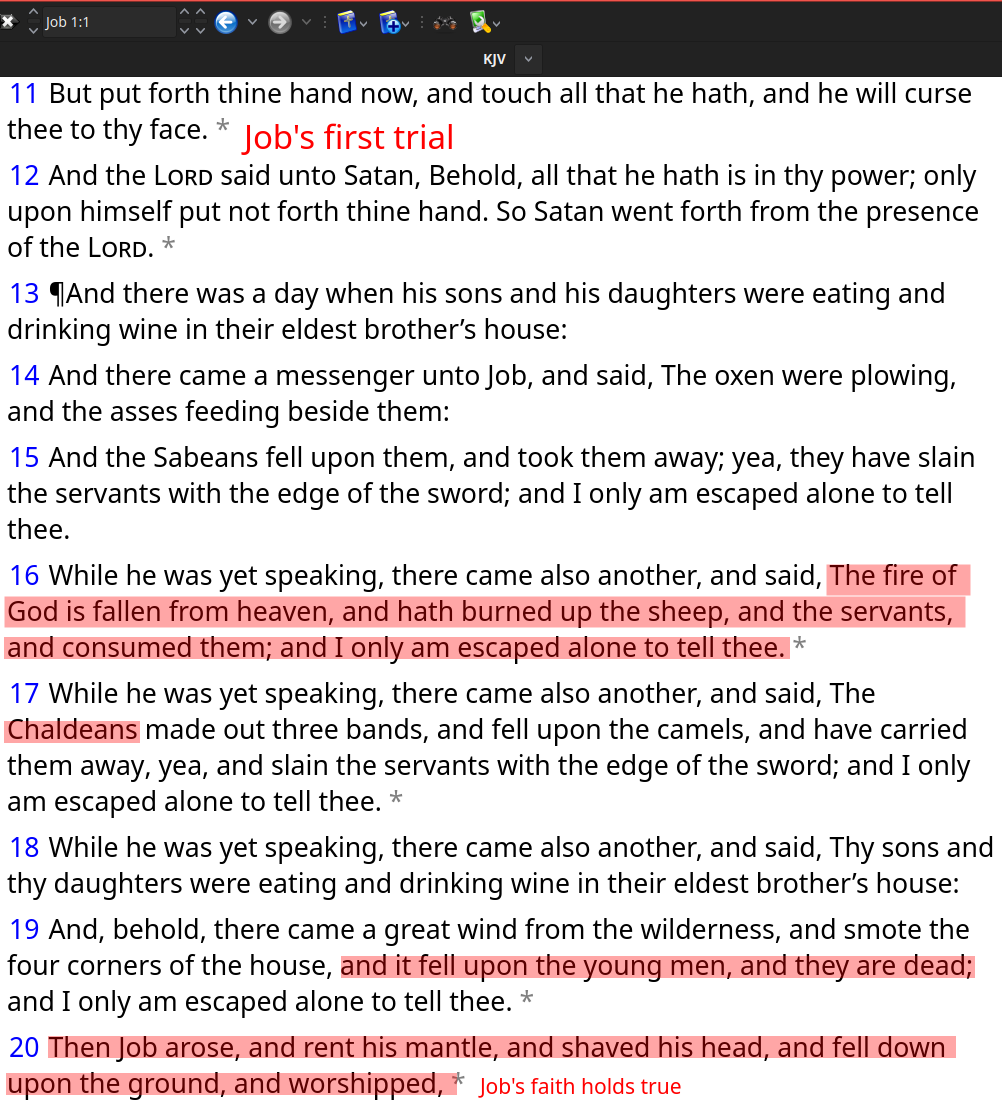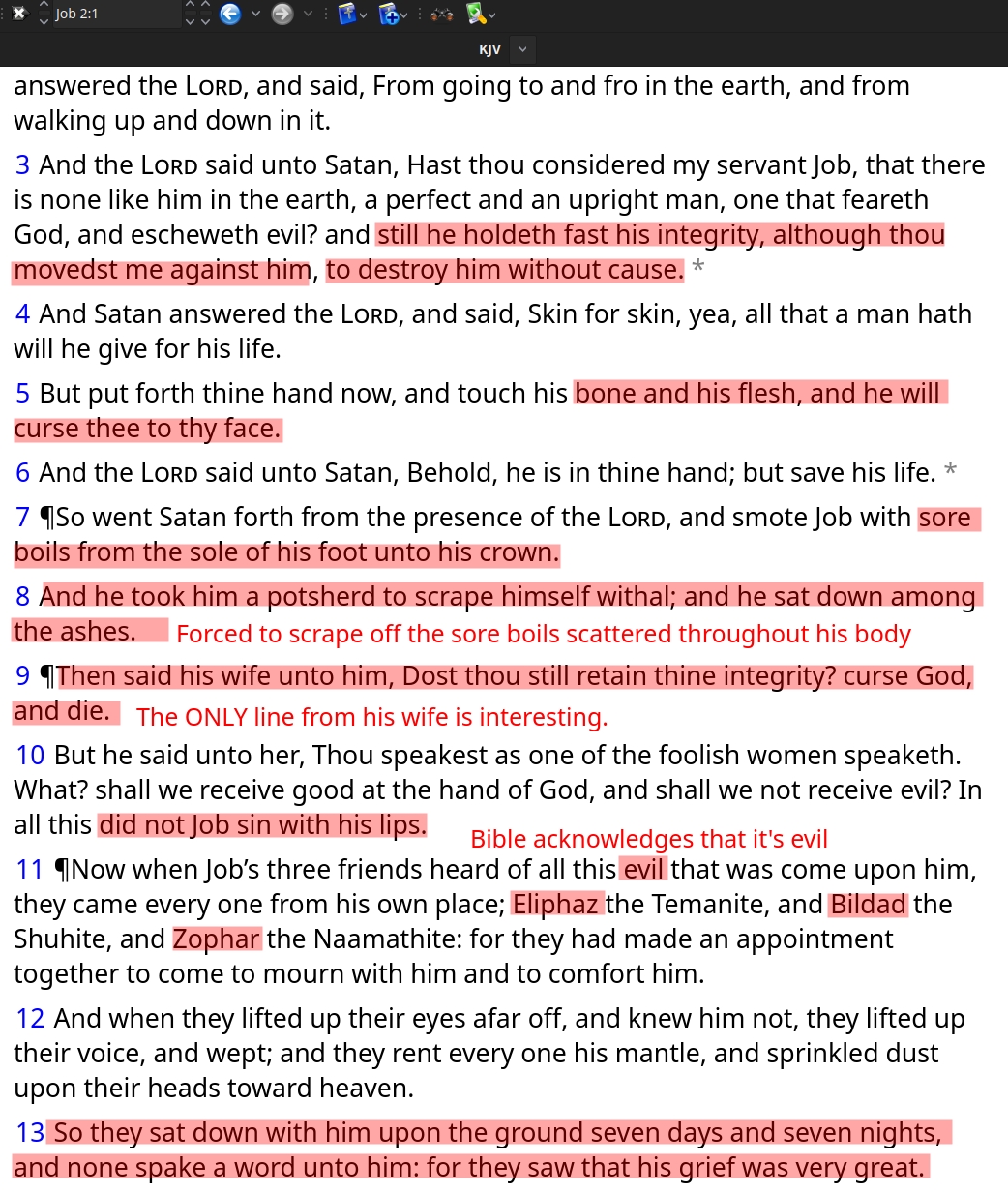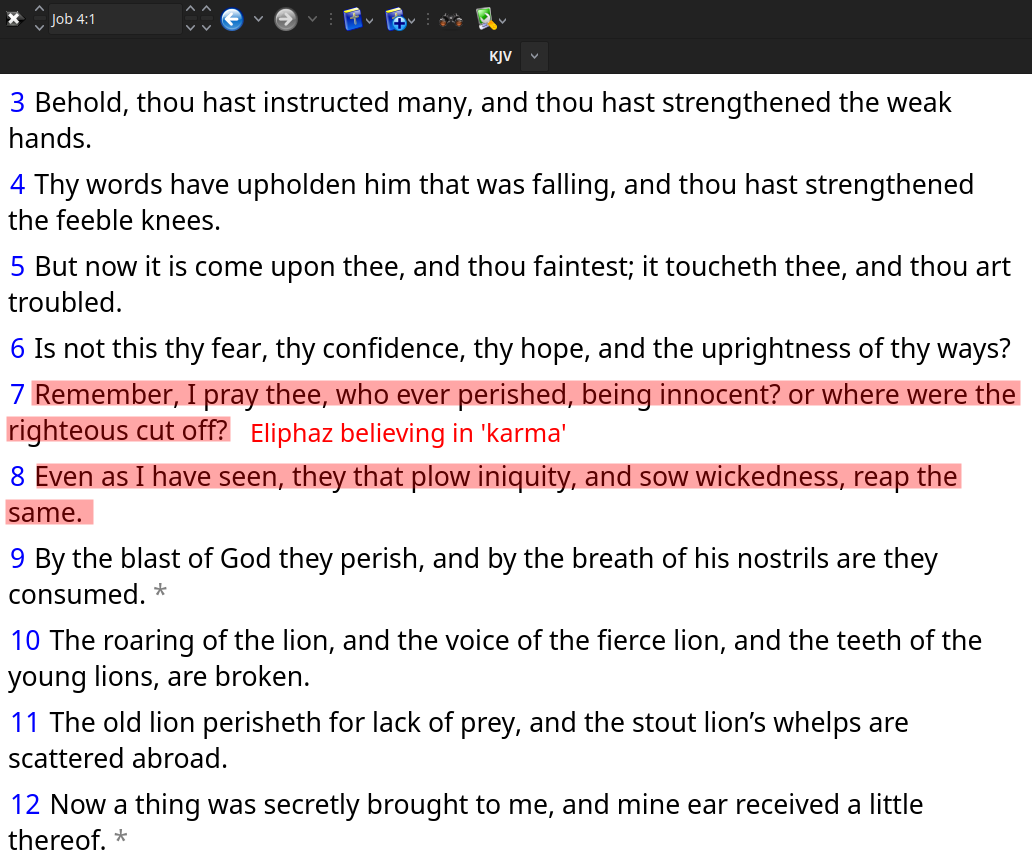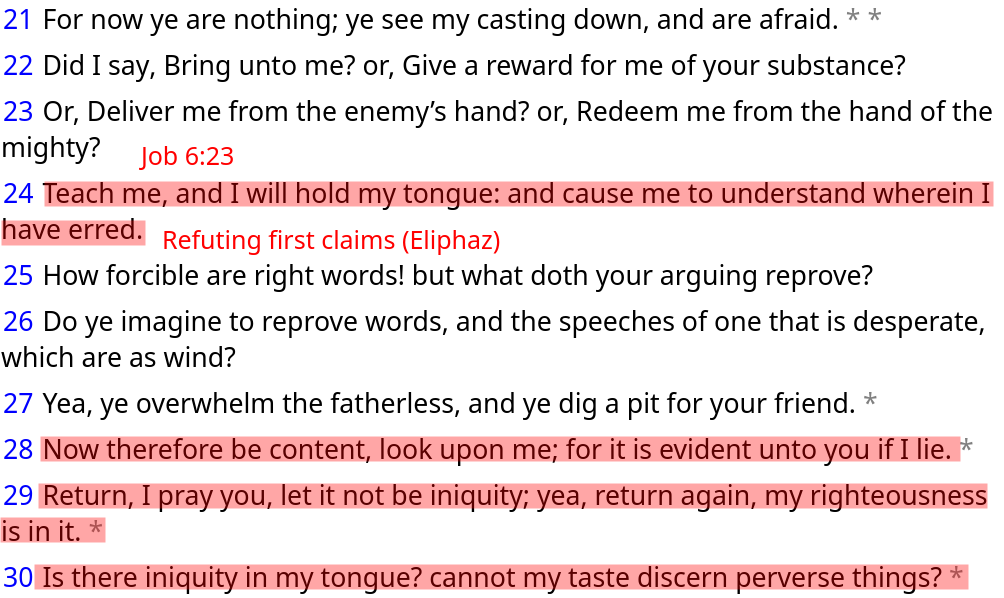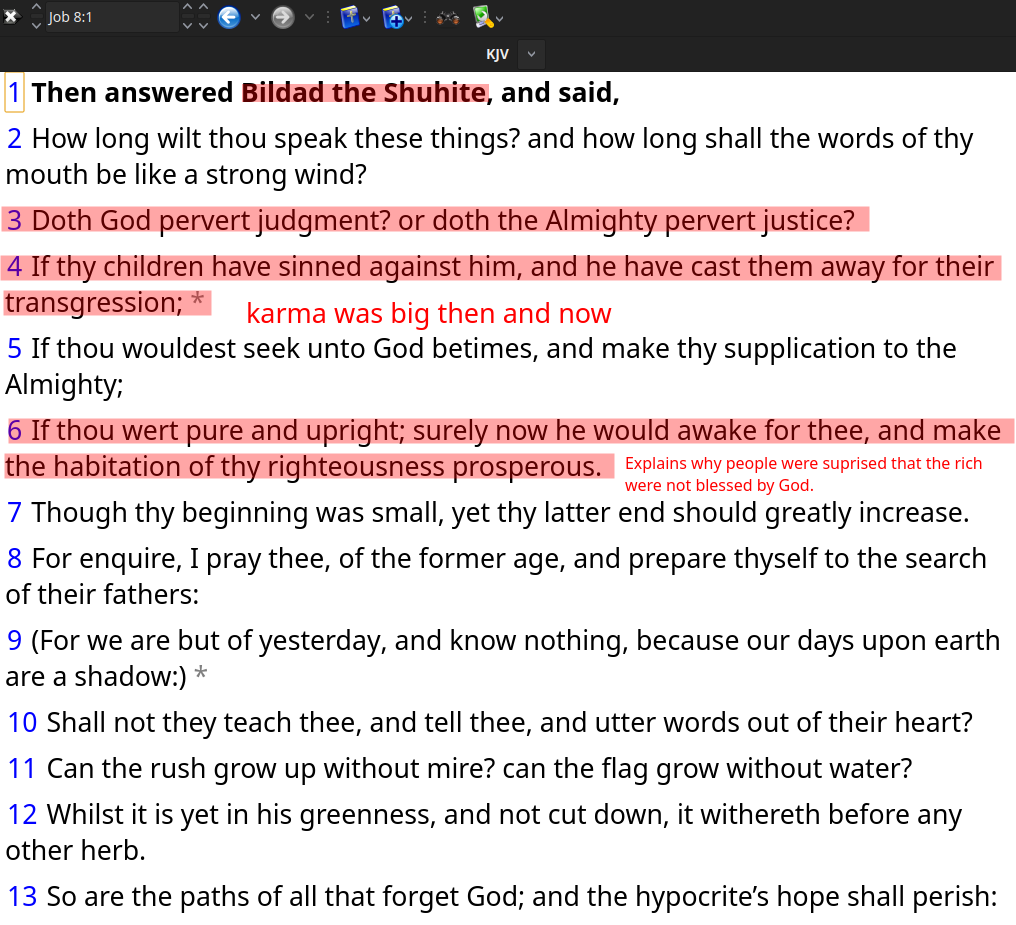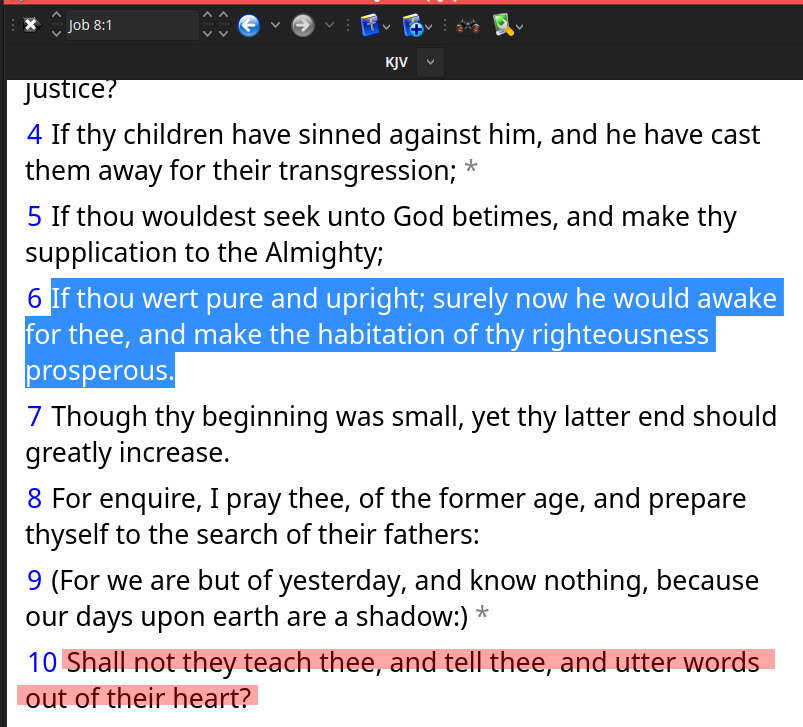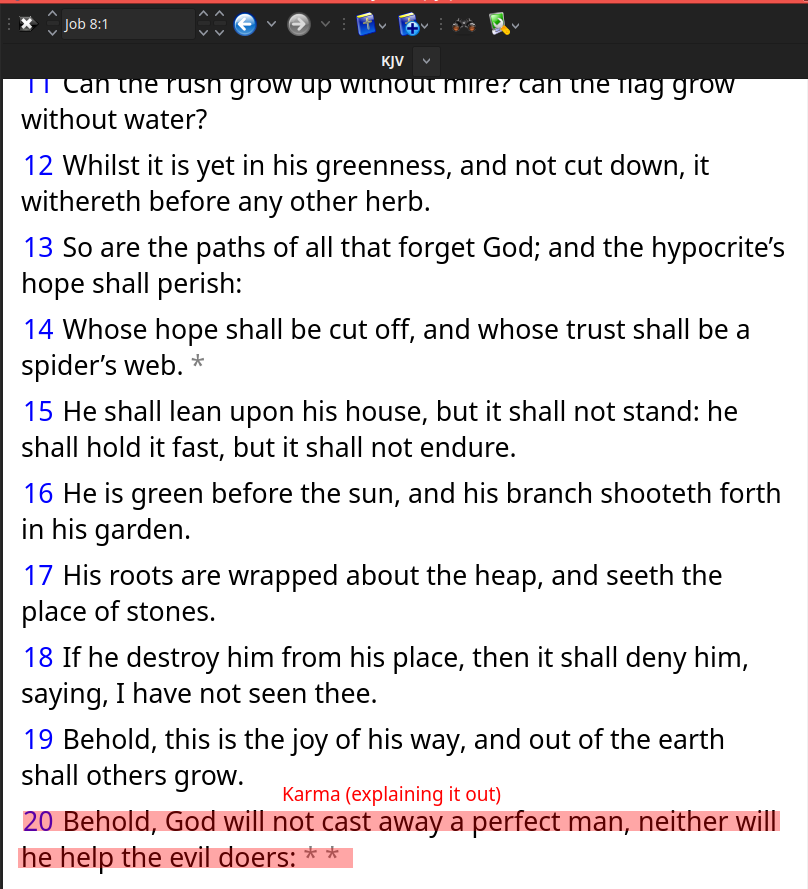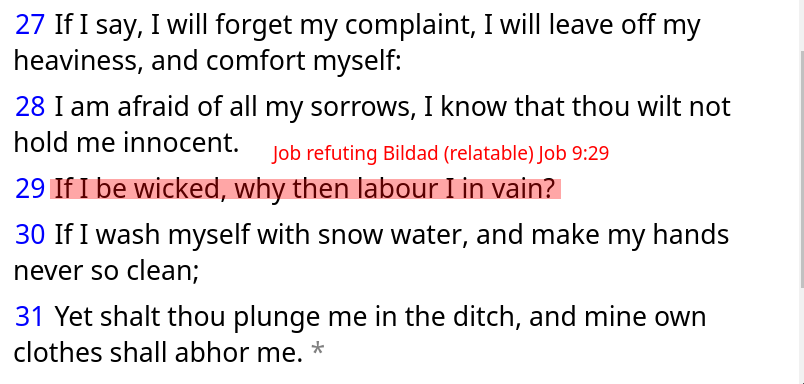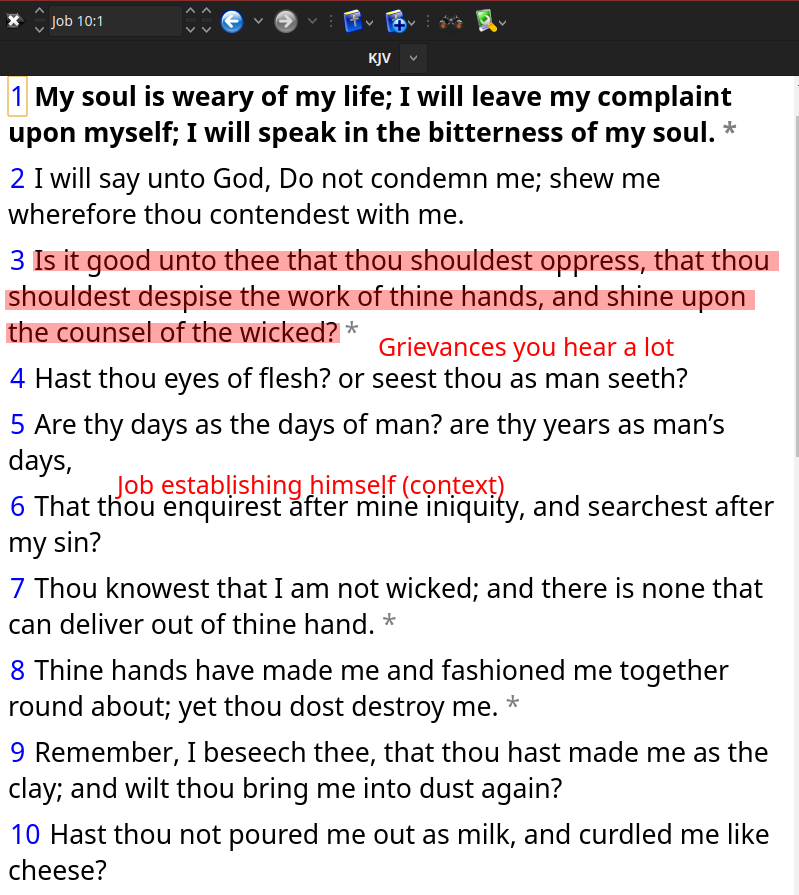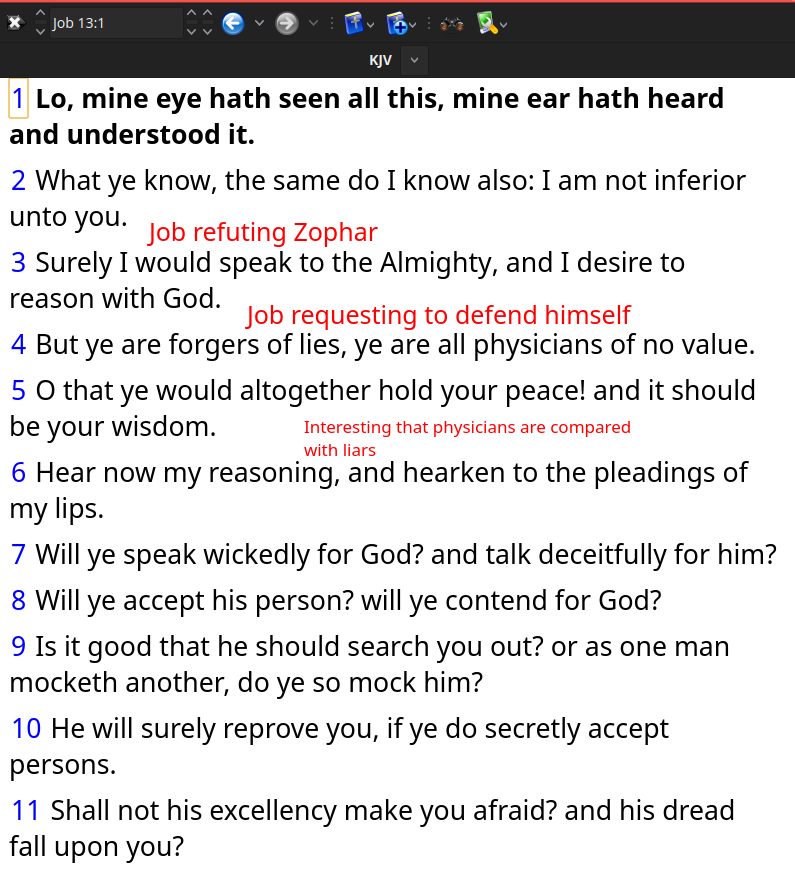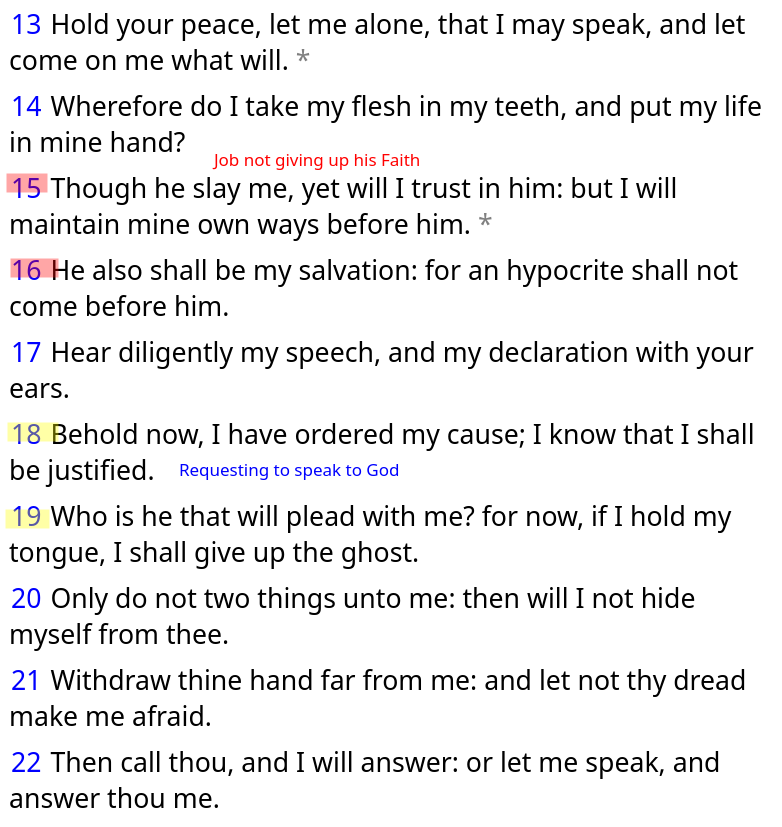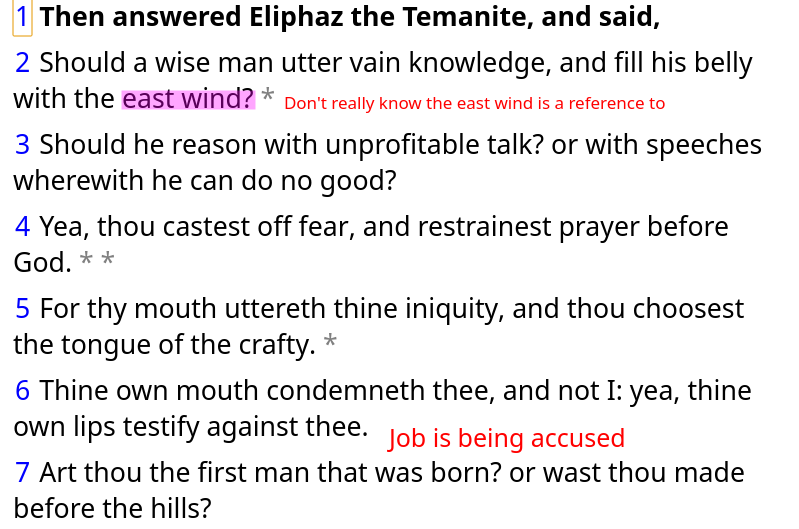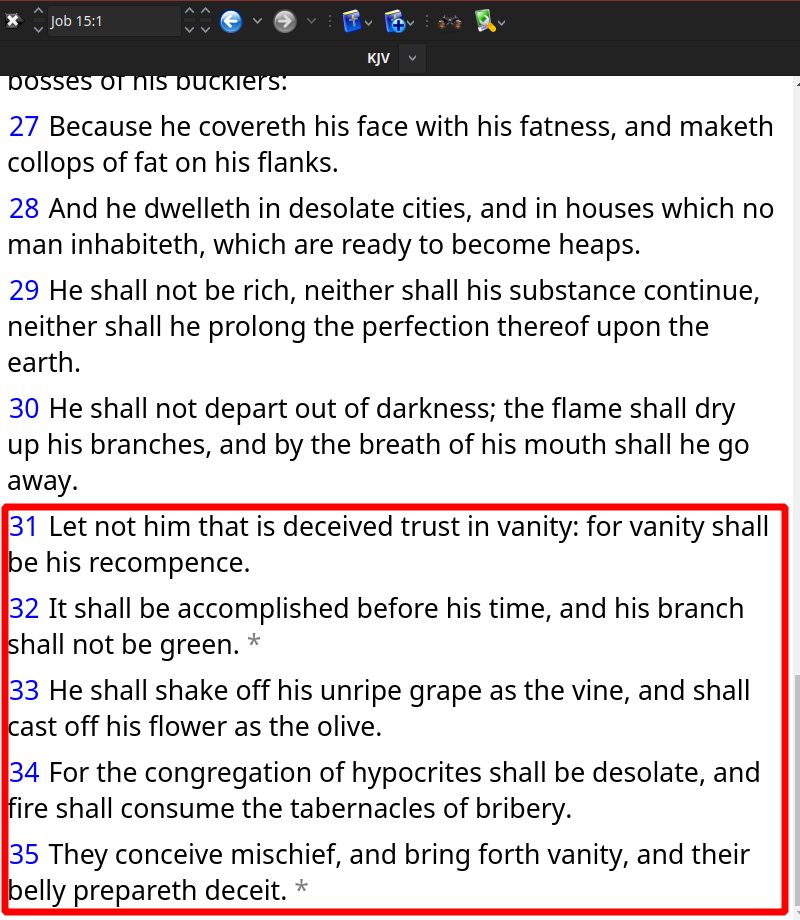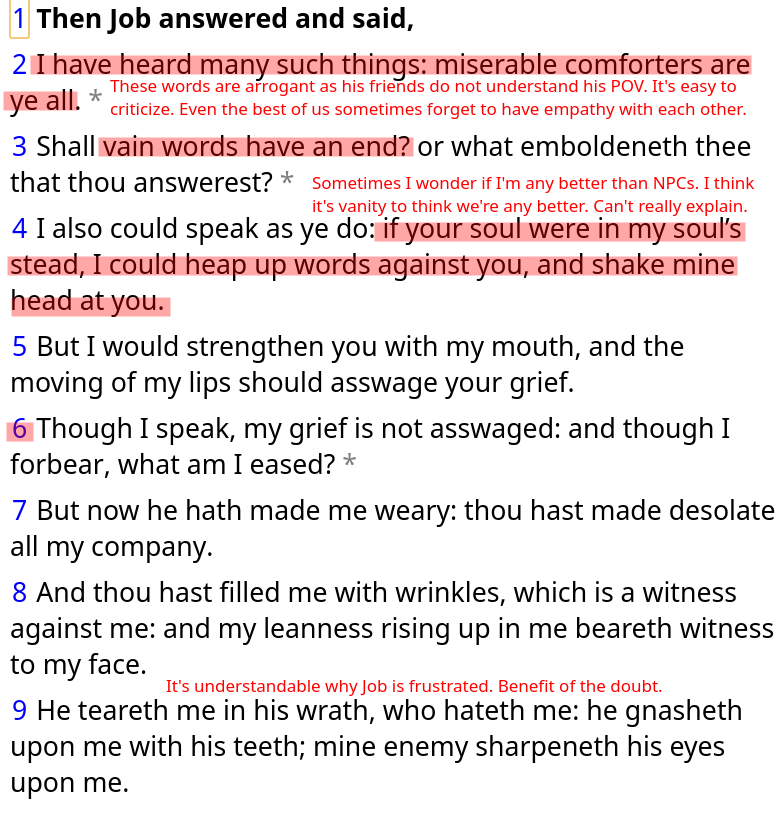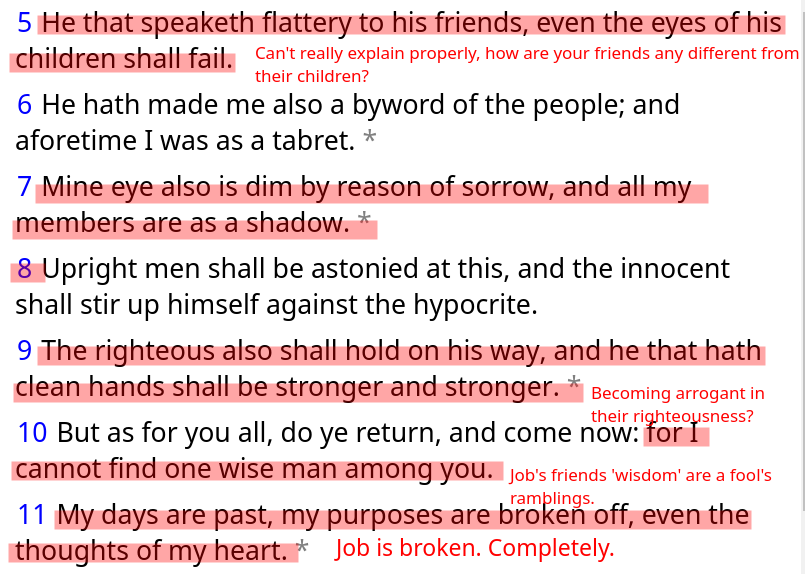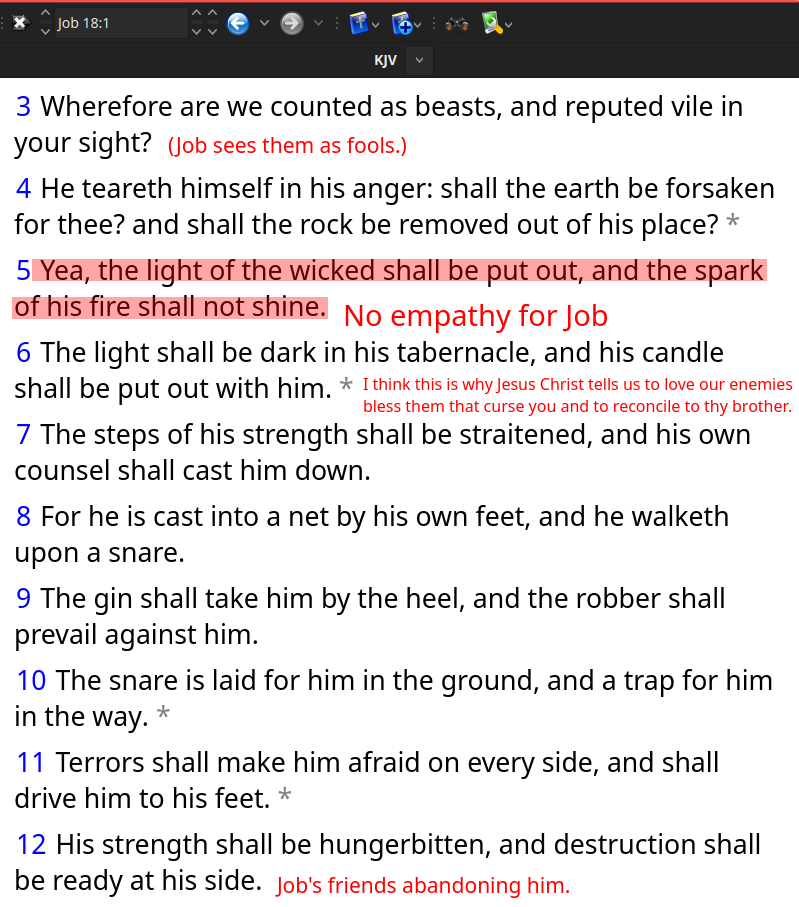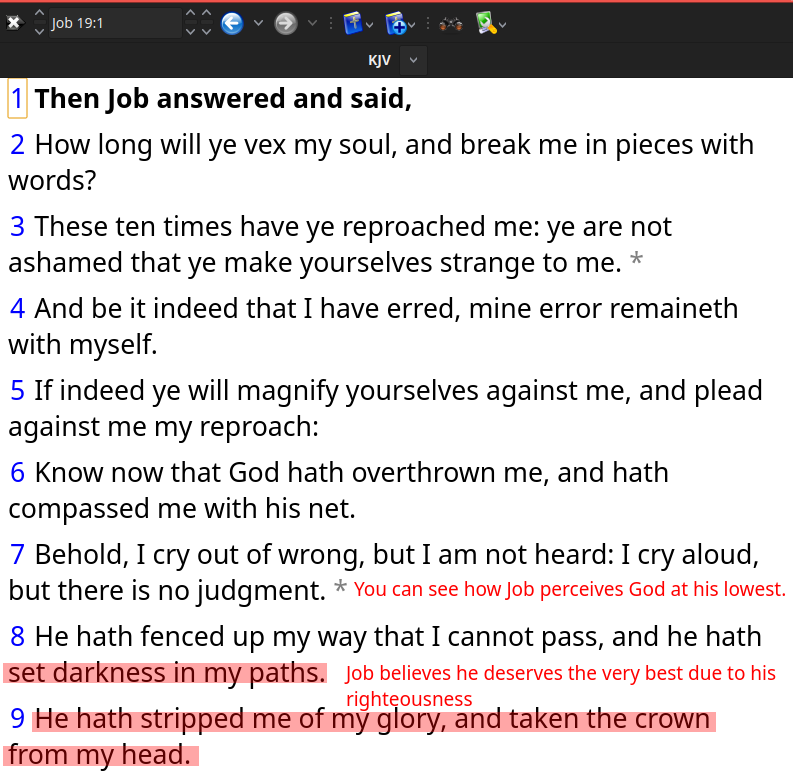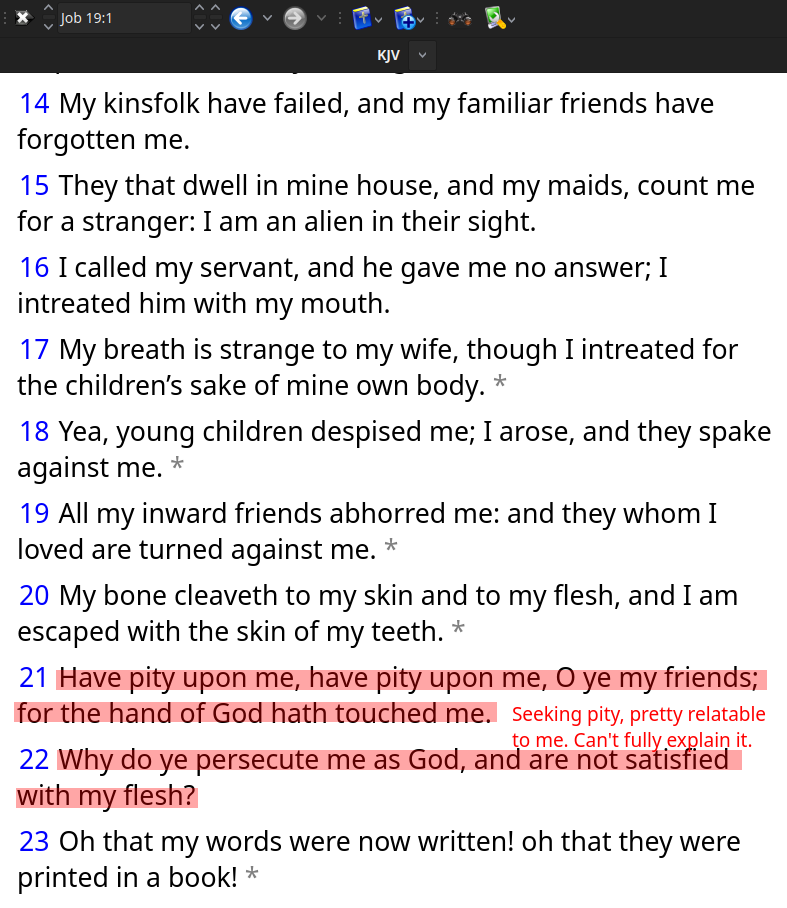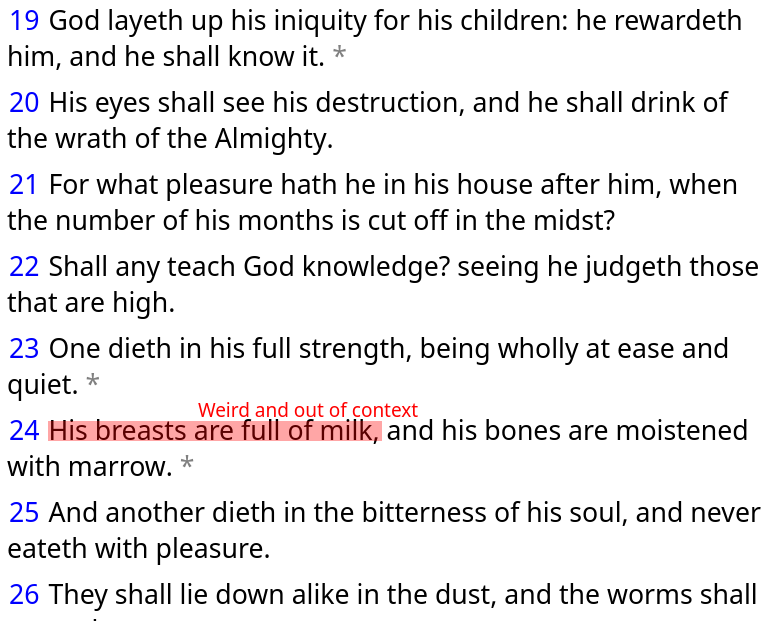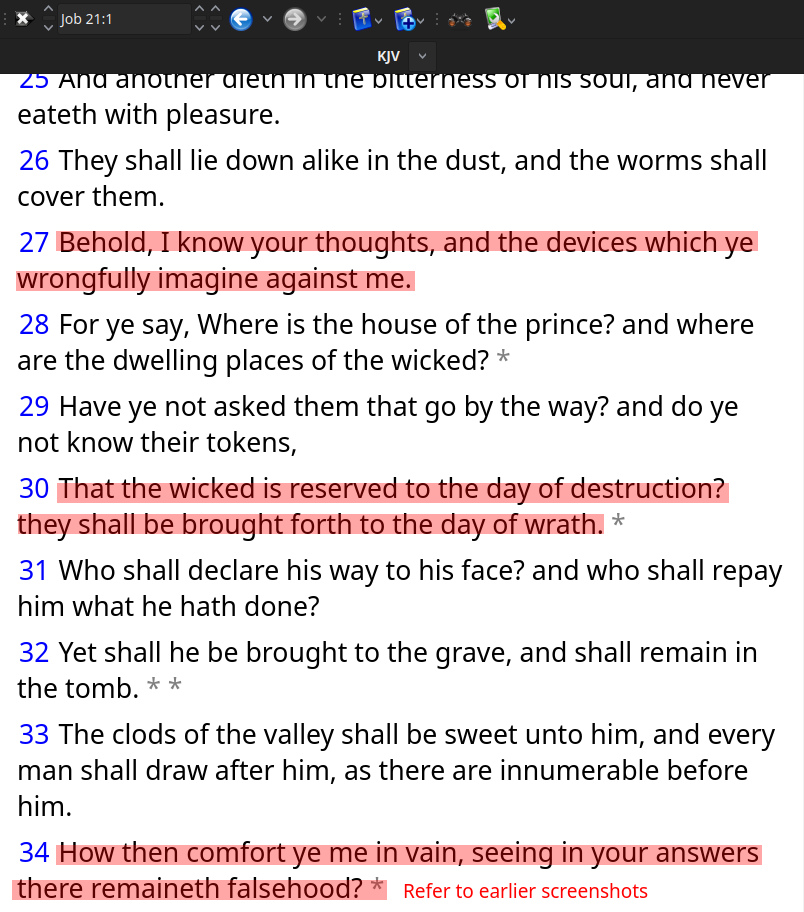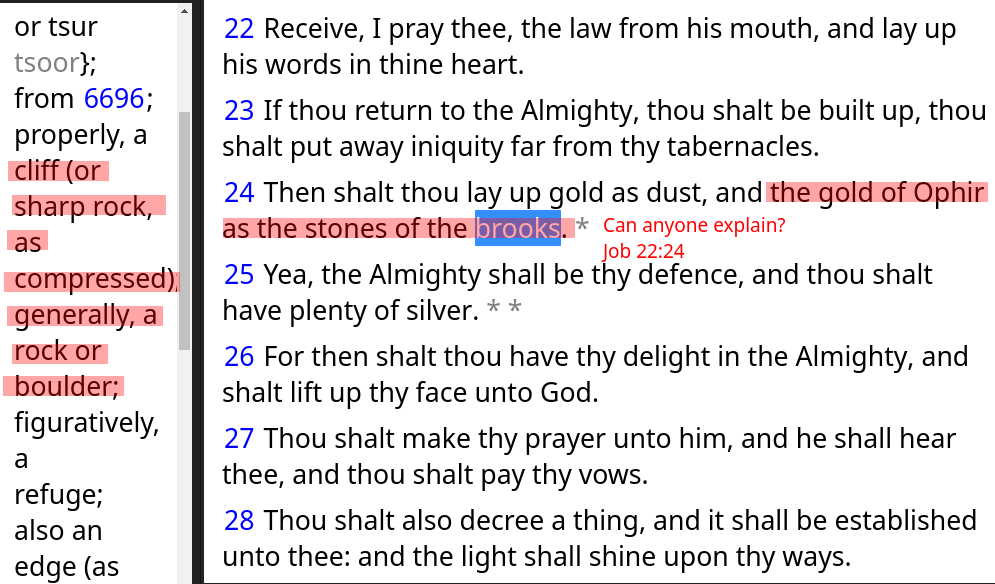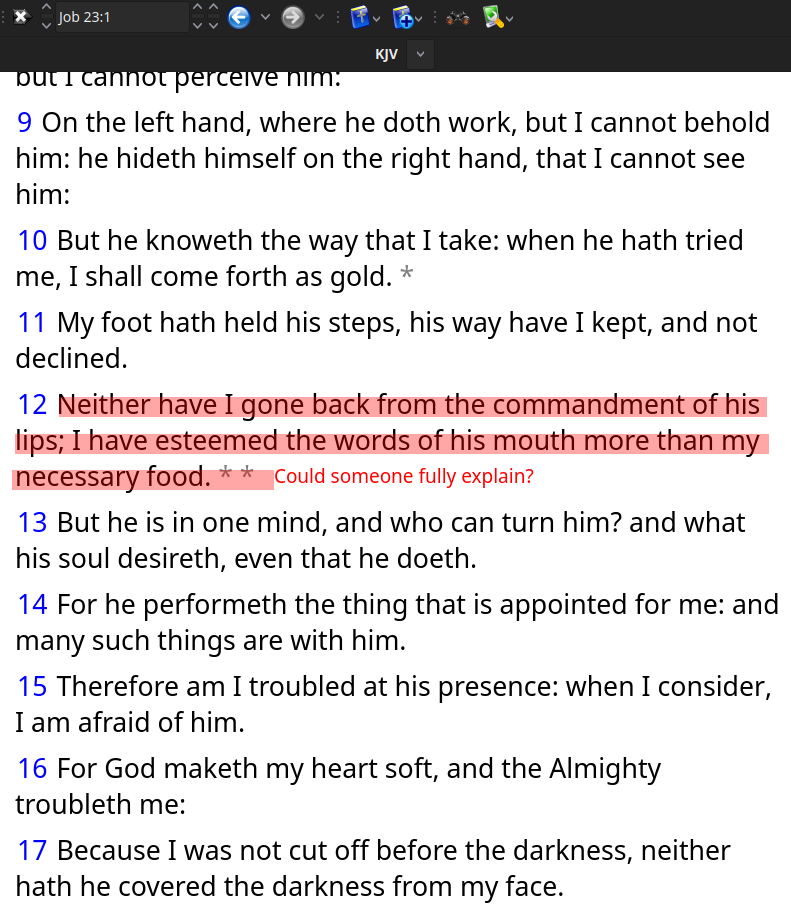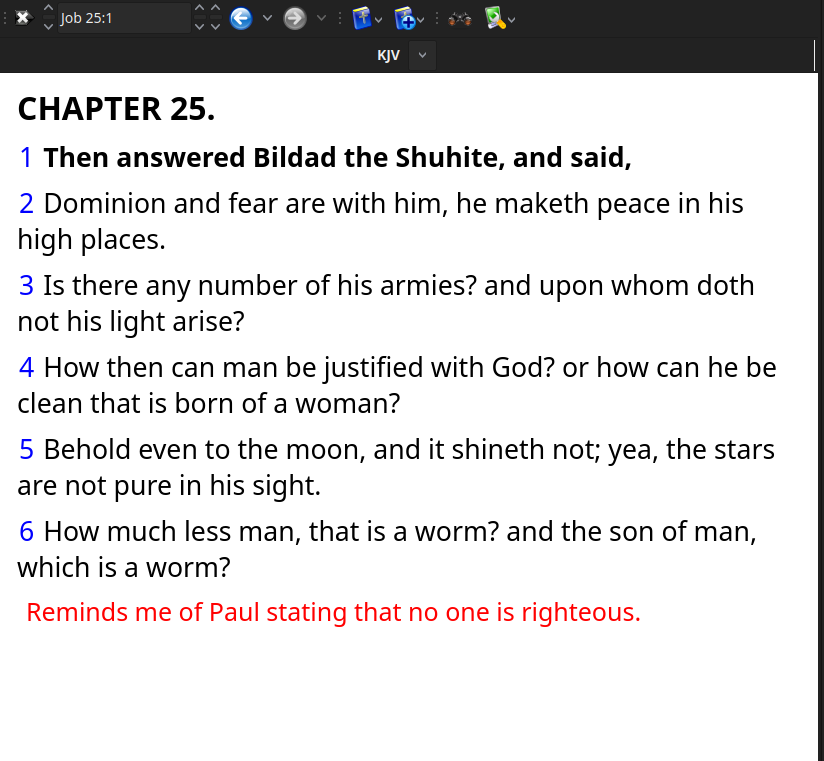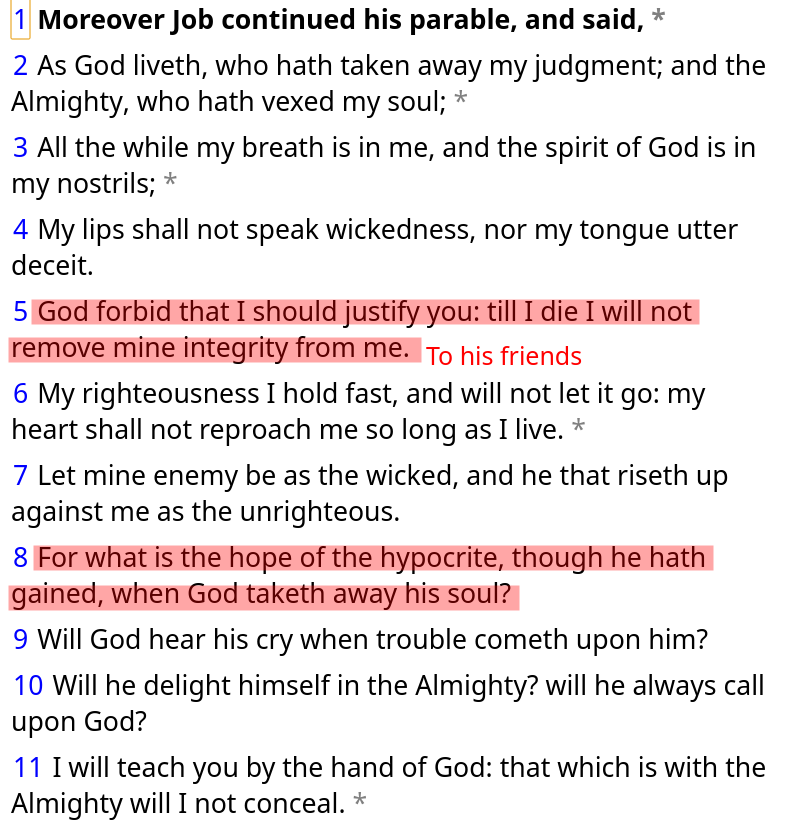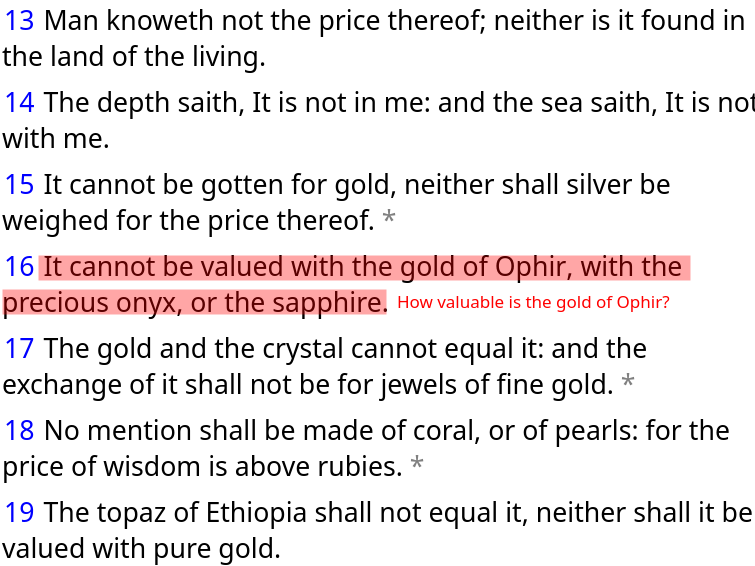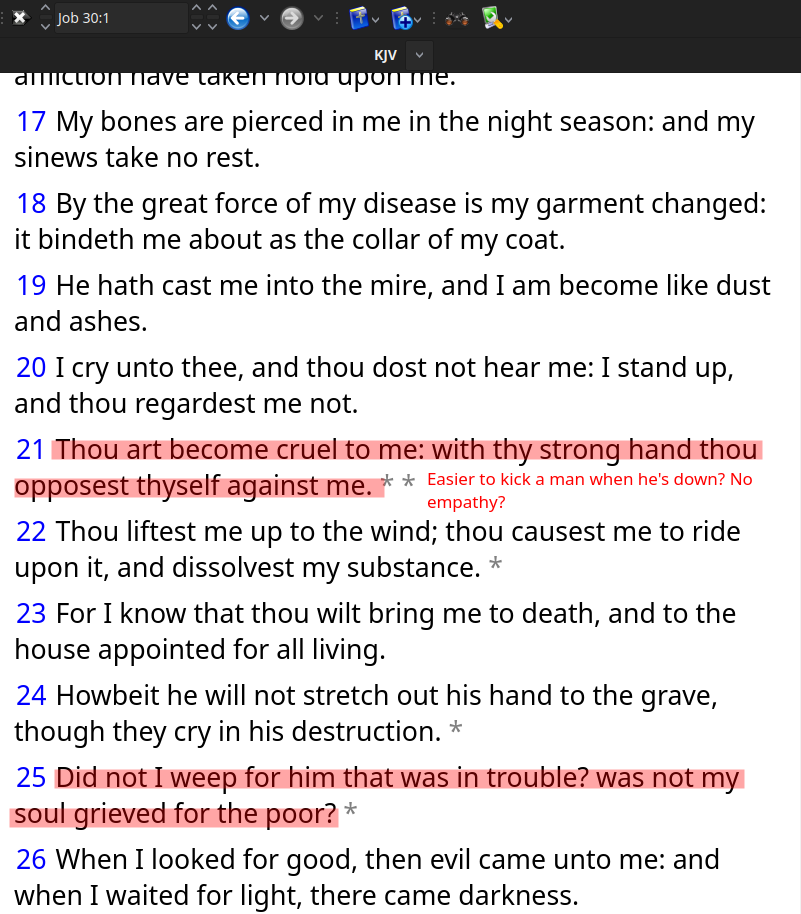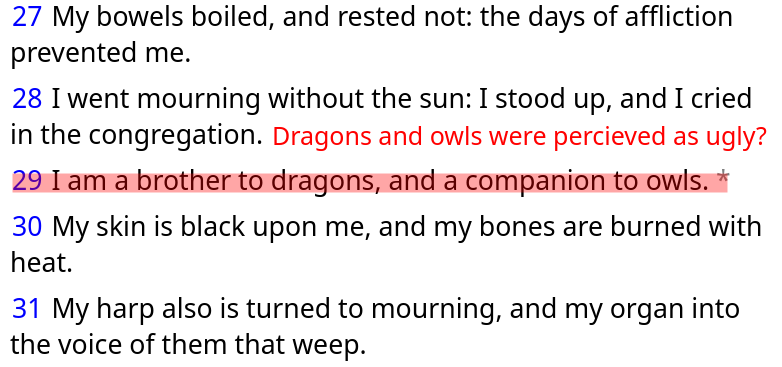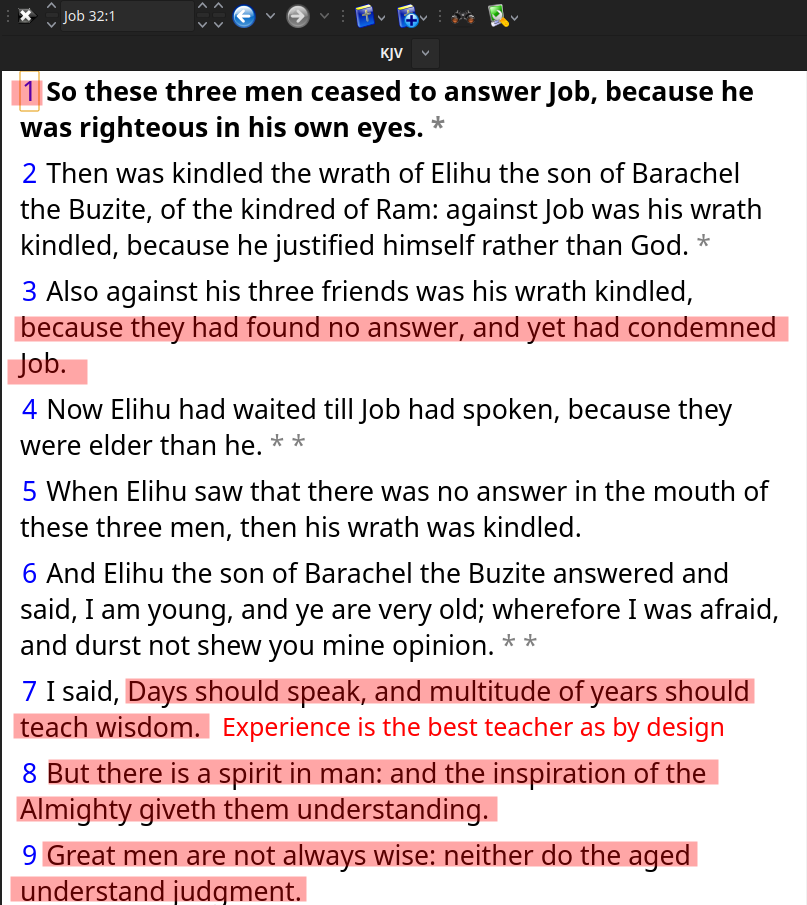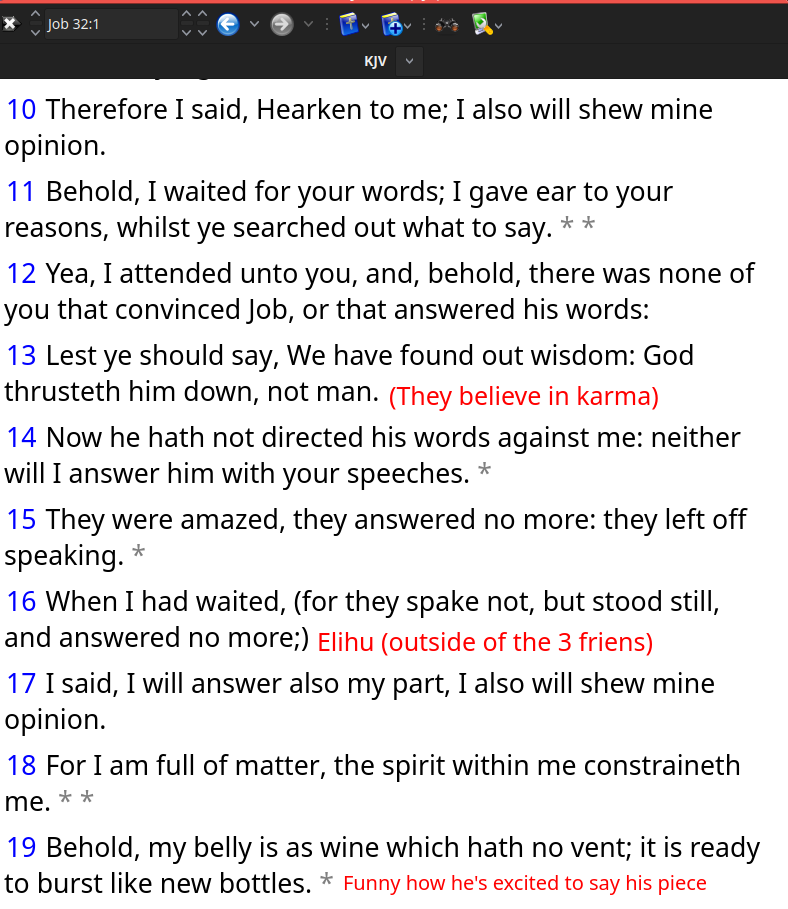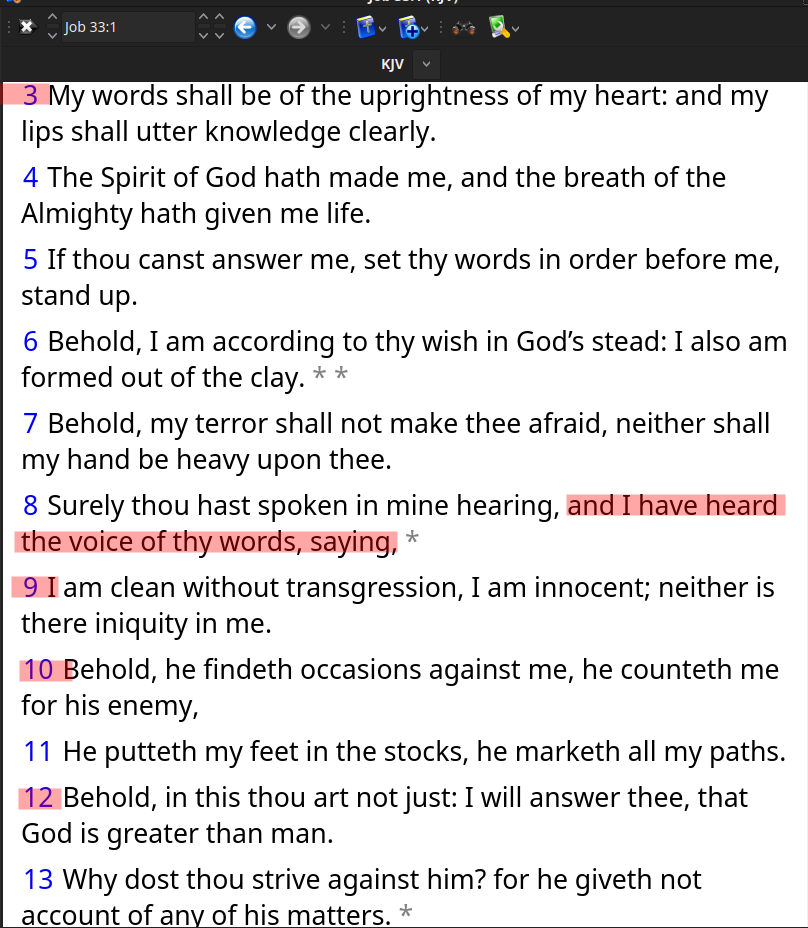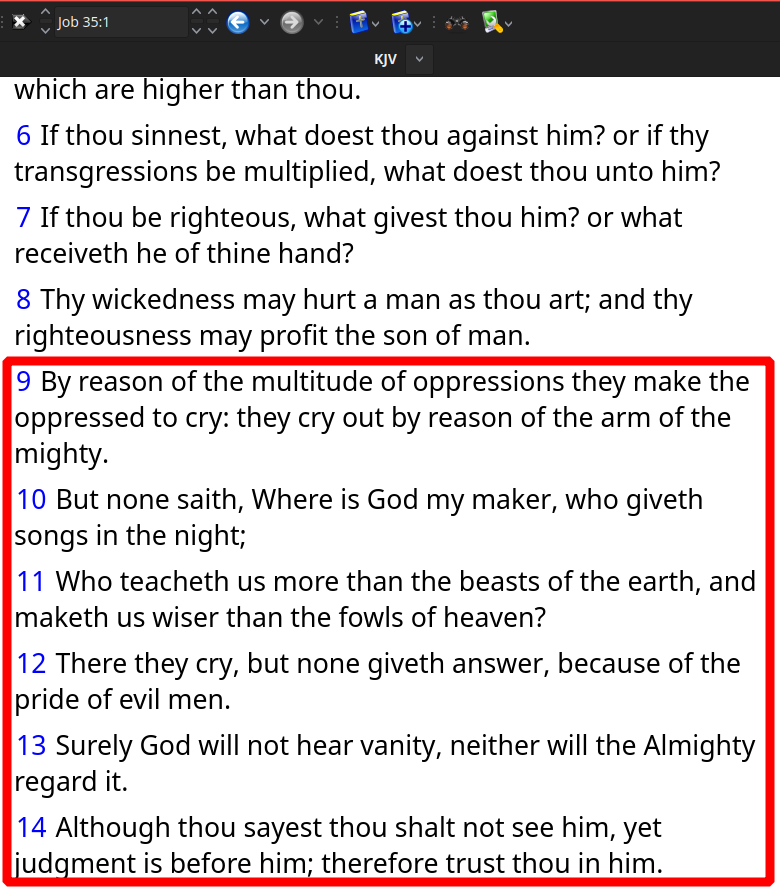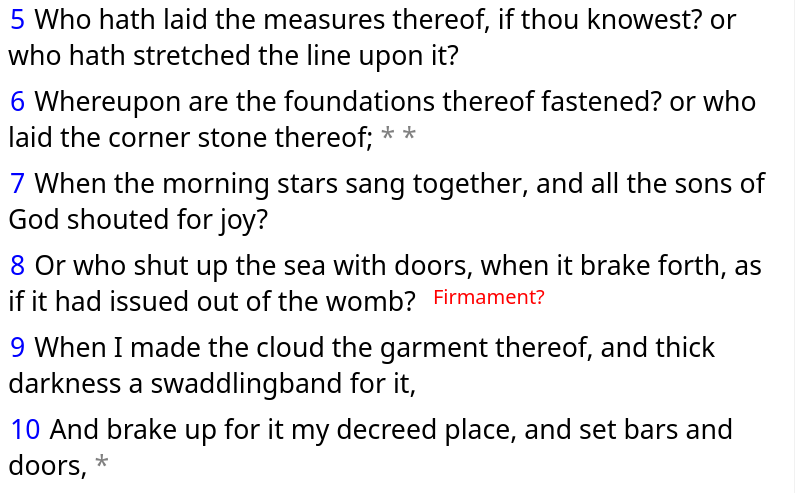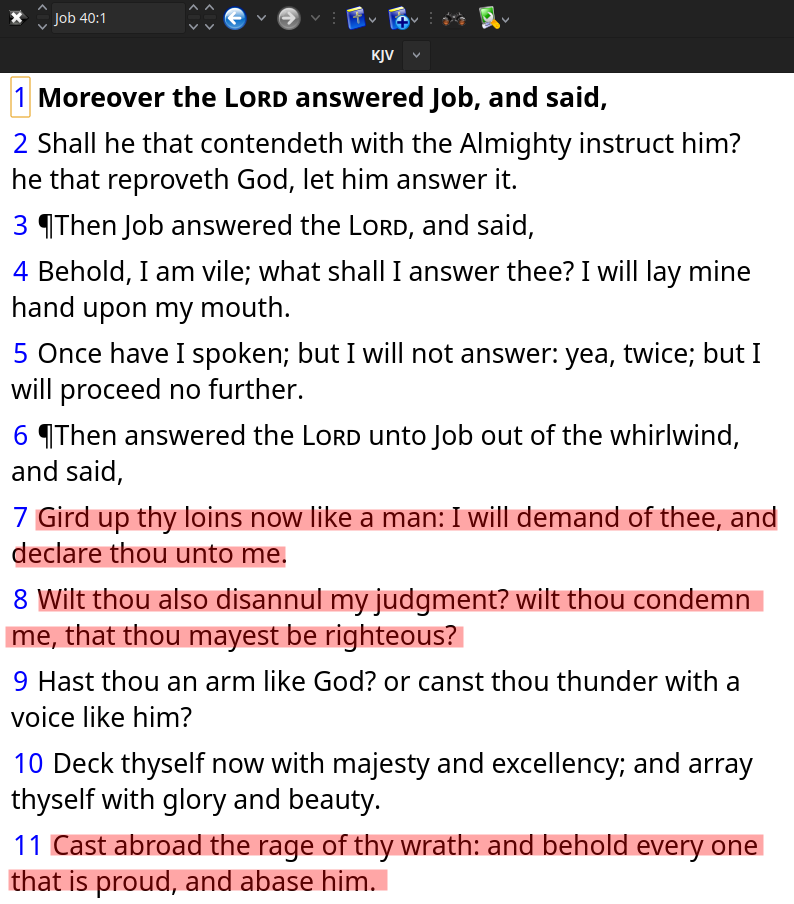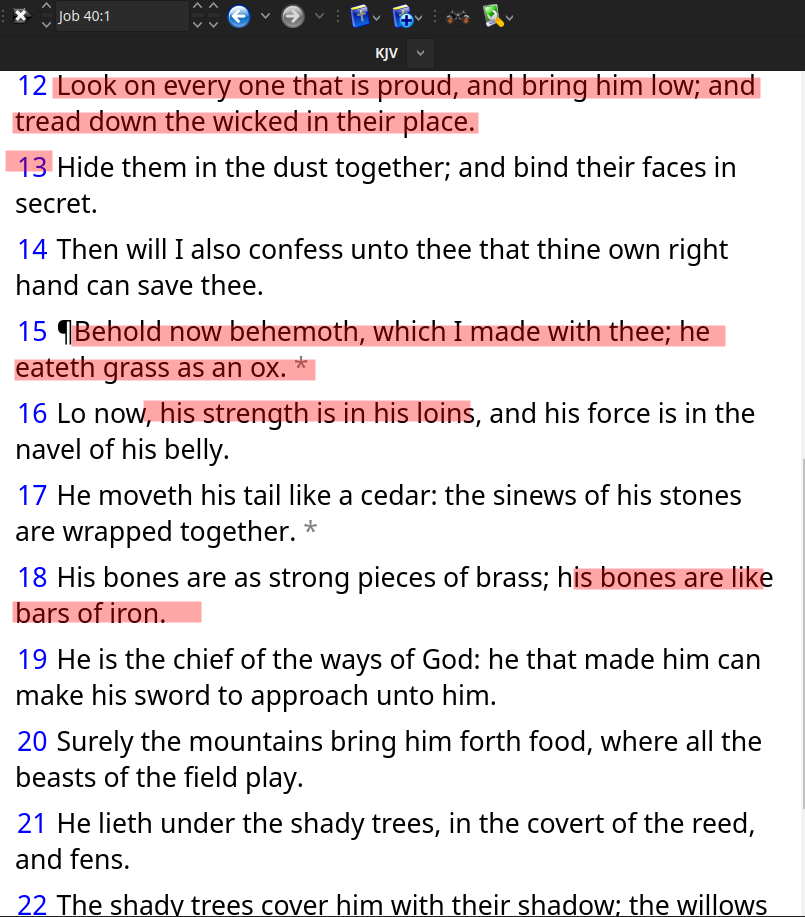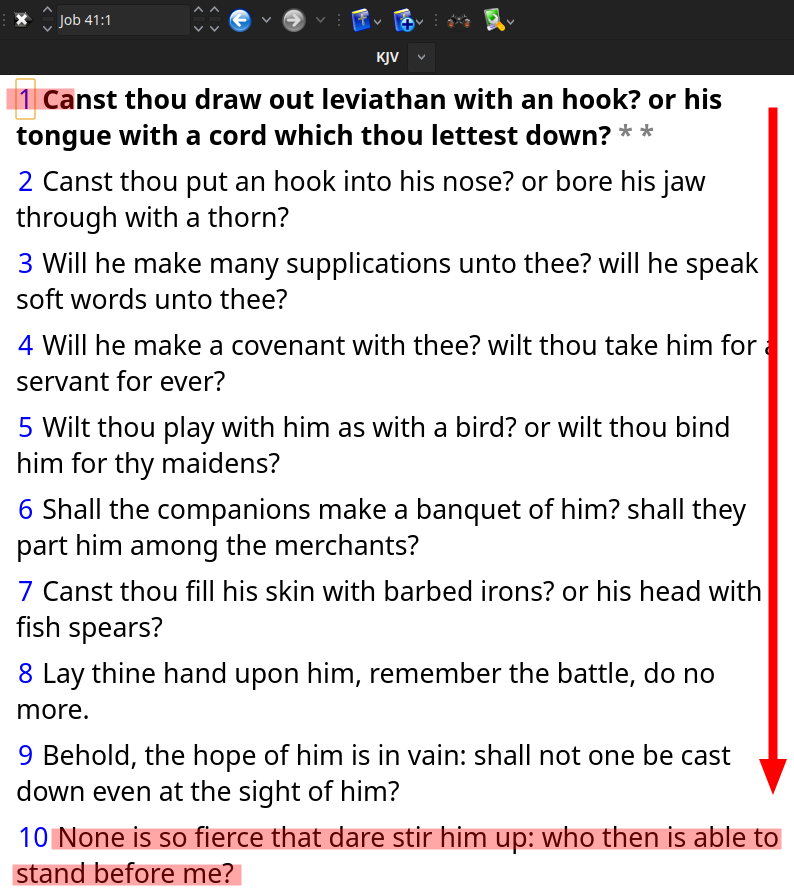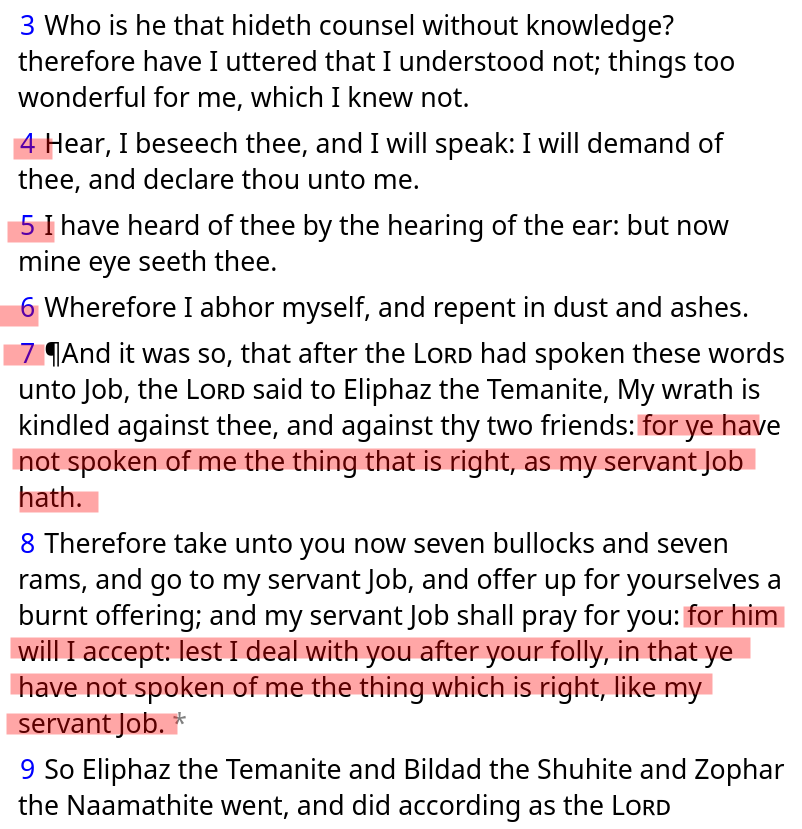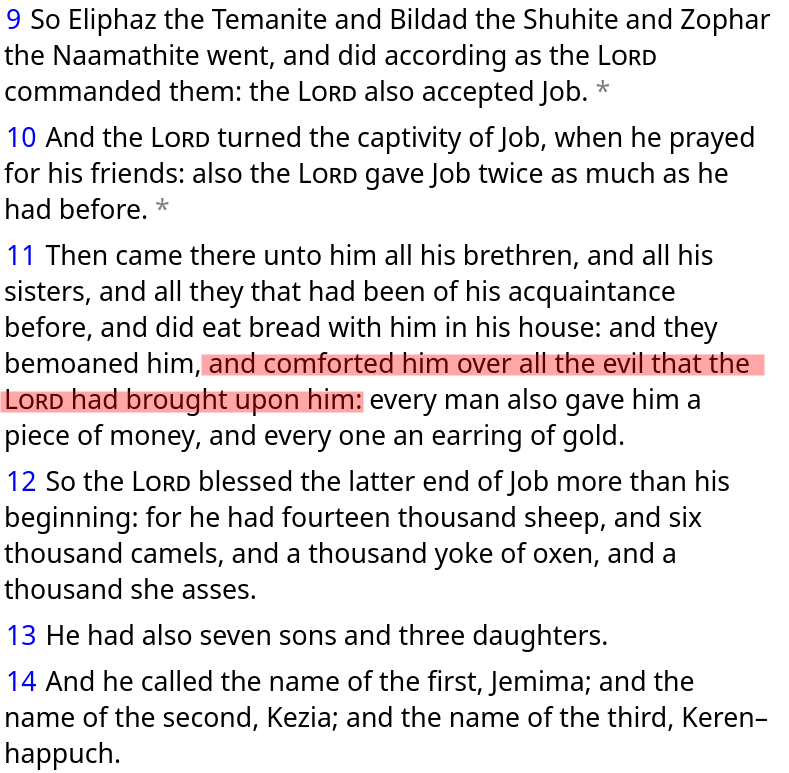 2/19/2021 - Job and Modern Day Christianity Pt 1
I decided to put screenshots with my notes instead of explaining every single thing I found along with a summary of Job. I'm updating part 1 (as you can tell) and merging my two ideas. Part 2 will be the summary as well as the screenshots. My screenshots will include the chapters before 9. The programs that I used will be under programming if you're curious how I made those screenshots.

Before clicking below, read the Book of Job and see if they're right.
As much as I hate to admit it, they did a good job with the Book of Job. I watched a couple of their other videos and... some of them are bad while some are good. Use your judgement.

Special Notes
-Job shaves his head as an act of forgiveness (may be wrong)
-Wife is only mentioned once
-Friends stayed with Job a whole 7 days before talking to him
-God doesn't mention Elihu

Comments from youtube videos that I found interesting.